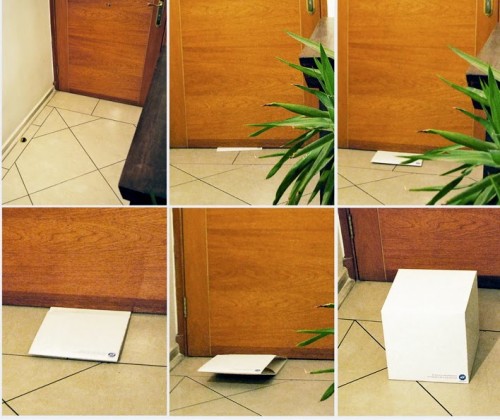 – Santiago, Chile
Great design comes in small packages it seems these days. For instance, this diabolically clever direct mail piece from DDB, Santiago, Chile.
ADT wanted to drop off a little message for condo owners who felt as though they were quite secure. POP! A reality check comes special delivery complete with a DVD to tell you otherwise.
I don't say this often, but – "Heavens to mergatroid, this is sheer genius".
"When not held flat, the boxes pop open to a cube, allowing them to be inserted under doors to lie in wait for the returning home owner. The owner sees the terrifying site of something that has gotten inside your home without your consent. To compound the brief moment of horror, it bears the slogan "Breaking into your apartment is easier than you think" next to the ADT logo."


Via Neatorma > Geekosystem
Photo: Copyranter